In a Nutshell
BlueVine provides fast financing solutions for small businesses in need of working capital. With flexible credit lines up to $5 million and simple invoice factoring options, the company can serve as a viable alternative to traditional lenders. Fewer fees, short terms, and automatic payment options make BlueVine an accessible choice for many small businesses.
pros
Quick online application process
Pay for only what you use
cons
Six-month repayment terms for line of credit
ACH transfers are free but wire transfers incur an extra fee
BlueVine at a Glance
| | |
| --- | --- |
| Loan types | Invoice factoring, line of credit |
| Loan amount | Up to $5 million |
| Minimum monthly revenue | $20,000 |
| Time in business | 6+ months |
| Minimum credit score | 650 |
| Repayment terms | 6 or 12 months |
| Time until funding | Approvals as fast as 5 minutes |
| Direct Lender or Marketplace | Direct lender |
Why Go With BlueVine?
BlueVine provides 2 funding solutions to address common cash flow problems:
Invoice factoring
Lines of credit
Whether you need a short-term infusion of cash to cover expenses until invoices are paid, or want peace of mind in knowing that you always have a funding reserve to draw on, BlueVine may have the solution.
The amount of credit you get from BlueVine replenishes as you make payments, and you pay no fees during times when you haven't drawn out any money. This flexibility means that you can always borrow as little or as much cash as you need and pay interest only on the amount borrowed.
Goals
BlueVine was founded in 2013 with the goal of helping small businesses avoid cash flow problems.
BlueVine holds an A+ BBB rating and is staffed by a team of knowledgeable executives and financial advisors. The company prides itself on providing fast funding and accessible services to help small businesses meet daily financial needs.
With no application, lockbox, or maintenance fees and no prepayment penalties, BlueVine aims to simplify the funding process and makes it easier for businesses to access financing and grow. BlueVine leaves you free to run your business without worrying about large monthly payouts or unexpectedly running out of funding.

What BlueVine Offers
5-minute online application
Approval and funding in as little as 24 hours
Credit lines up to $5 million for invoice factoring
Credit lines up to $250,000 for line of credit
Automatic repayments
No reserves or minimums on invoice factoring
No fees or maintenance costs on credit lines
Rates as low as 15.00%
Minimal qualification requirements
Loan Application
Since BlueVine provides working capital rather than term loans, it asks for much less information than banks do from applicants. These lower requirements speed up the application process and make it easier to qualify even if your credit score prevents you from getting a bank loan. Basic requirements are different for the two types of financing.
Credit line applicants are required to:
Be in business for at least 6 months
Have a minimum credit score of 600
Bring in $5,000 per month in revenue
For funding from invoice factoring, your business must:
Service or sell to other businesses rather than consumers
Have been operating for 3 months or more
Show a minimum credit score of 530
Have $10,000 per month in revenue, or a minimum of $120,000 annually
The "5 minute" application asks for:
Amount and type of credit line desired
Name
Phone number
Address and email address
Date of birth
Business name and type
Business contact information
Business address
Tax ID or Social Security number
Annual revenue
Applicants must also provide bank statements from the past 3 months or give BlueVine permission to view digital statements in your bank account on a "read only" basis.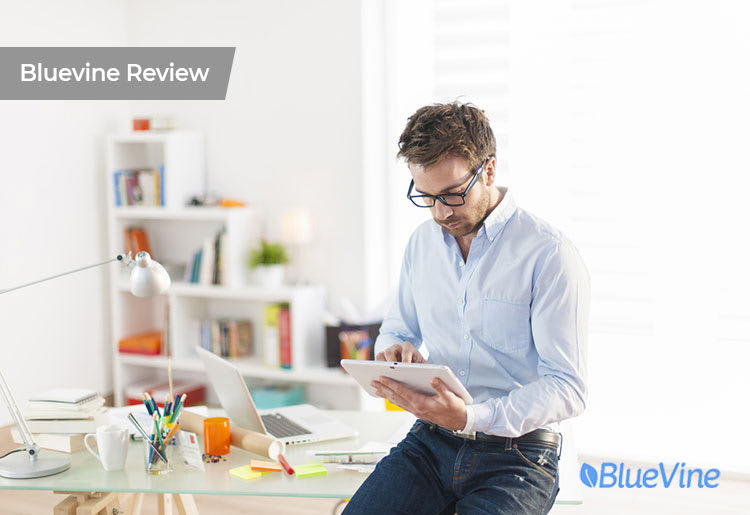 What's Unique About BlueVine?
As an alternative to banks and other institutions offering large loans with long-term commitments, BlueVine seeks to provide funding to companies looking for quick solutions to cash flow problems. Credit lines and invoice factoring are the only two financing options it offers, and specializing in these types of financing allows them to focus on fulfilling the everyday needs of small businesses.
To make money management easier, the services can sync with popular accounting software:
QuickBooks
Xero
FreshBooks.
Flex Credit
The BlueVine credit line is called "Flex Credit," a nod to the revolving structure of drawing and repaying funds. Flex Credit lines are typically approved for $5,000 to $150,000, but it's possible to request a custom quote for a higher amount. Unlike with a merchant cash advance, your business doesn't need to accept credit card payments to be eligible for Flex Credit.
Using the credit line is straightforward:
Draw what you need at any time using the dashboard
Payments are automatically deducted each week with applicable interest
Available credit replenishes with payment
No additional fees for maintenance are required, so if you haven't borrowed any money, you don't owe any extra payments. Automatic weekly deductions from your bank account help prevent missed payments and can increase your credit score. As long as there's enough money in your business account to cover your weekly obligation, you'll never fall behind. And BlueVine now offers a 12-month business line of credit with monthly payments.
Restrictions
However, there are some restrictions to their credit lines. The company is unable to offer this type of financing in:
Kentucky
Nevada
New Hampshire
North Dakota
South Dakota
Tennessee
Vermont.
For businesses operating in these states, invoice factoring may be a feasible alternative.
If you choose invoice factoring, you can factor any invoices meeting BlueVine's criteria:
Payment term of 13 weeks or less
At least one week away from the due date
Amounts of $500 or higher
Issued to another business in the United States or English-speaking Canadian provinces
Covering a completed or delivered service or product
You're not obligated to disclose your use of invoice factoring to customers, although BlueVine may offer a larger amount of financing to companies agreeing to share this information. The company handles all payments from customers on factored invoices and offers same-day rebate distribution.
Applying for either type of financing takes only five minutes and requires basic personal and business information common to alternative lending applications. Approval usually occurs within 24 hours, and funds may be available the same day if you choose to pay the $15 fee for a wire transfer. Payment via ACH can arrive the next business day but may take up to three days.
To qualify for financing, you need a minimum credit score of 530 for invoice factoring or 600 for a line of credit. However, the company also looks at past business cash flows and the strength of your customer base when considering your application, so credit score isn't always the deciding factor.
Repayment Terms
Invoice factoring has a maximum term length of 12 weeks with 0.3- to 1% interest paid per week, working out to an approximate APR of 15.00% to 60%. Credit lines have a 26-week term with 0.35- to 1.2% interest per week for an APR of 21% to 65%. The short terms make overall interest rates higher than those of traditional loans, but you're not stuck with a long-term commitment to a financial institution, nor do you have to worry about running out of money with payments still hanging over your head.
Methods
Payment on the money drawn from a credit line occurs automatically from your bank account every week. For invoice factoring, customer payments are handled through your BlueVine account rather than your regular business bank account. BlueVine facilitates the payment process and takes the fee when the invoice is paid. However, if a customer fails to pay an invoice, you're responsible for repaying whatever funds you've been advanced as part of the financing agreement.
Security of the Site
A GeoTrust certificate offers security for the entire website, and the company uses SSL encryption to protect any personal information you submit. Sensitive data is stored in secure databases. Information is only accessed and shared as necessary to provide services. Financial transactions are protected by the companies BlueVine works with when handling advances and payments.
Help & Support Availability
The FAQ page covers most general questions about credit lines and invoice factoring, including which types of invoices are eligible, the minimum and maximum amount of credit a company can request, and how payments are handled. However, some information isn't readily available, and you may have to contact them for more details to determine which financing option is right for you.
The financial advisors can be reached from 7:00 am to 4:30 pm PT Monday through Friday. Phone support is available whether you're considering applying for financing or you're already using one of their services.
Conclusion
BlueVine provides fast financing solutions for small businesses in need of working capital. With flexible credit lines ranging from $5,000 to $5 million and simple invoice factoring options, the company can serve as a viable alternative to traditional lenders.
A simple application and 24-hour approval allows businesses to obtain funding when and how it's needed and bypass the lengthy and complex process required by most bank loans. Fewer fees, short terms, and automatic payment options make BlueVine an accessible choice for many small businesses.
Physical Address
BlueVine Capital, Inc.
401 Warren St. Fl. Suite 300
Redwood City, CA 94063-1578