In a Nutshell
Kabbage provides credit lines to businesses for covering any expense. Approval gives instant access to funds, and you can draw on the approved amount when you need cash for your business. The terms and fee are easy to understand, and there are no hidden fees. Loans are structured in as credit lines so you can withdraw money as-needed, and the Kabbage card affords you instant access when you need it.
pros
Approval within minutes
Lends to borrowers with fair to excellent credit.
Kabbage Card
cons
$150K maximum line of credit
High interest rates
Kabbage at a Glance
| | |
| --- | --- |
| Loan amount | Up to $2M |
| Minimum monthly revenue | $4,200 |
| Age of business | 12+ months |
| Minimum credit score | None |
| Repayment terms | 6 or 12 months |
| Time until funding | Qualify in 10 minutes |
| Direct Lender or Marketplace | Direct lender |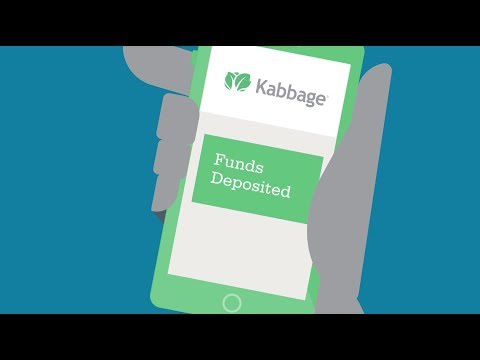 What Kabbage Offers
Lines of credit from $2,000 to $250,000
6 months payback for all customers who qualify and 12 months for eligible customers
Unsecured loans approved "in minutes"
Monthly fees ranging from 1.5 percent to 10 percent with no hidden charges
No up-front fee required
Fees charged only on outstanding balances
No prepayment penalties
Multiple withdrawal options: online dashboard and mobile app
Kabbage Card, for use anywhere Visa is accepted
Why Go With Kabbage?
Kabbage provides nearly immediate credit lines to businesses for use in covering any type of expense. Once approved, you'll be notified of how much credit and which of their 2 loan terms you qualify for. Approval gives you instant access to funds, and you can draw on the approved amount any time you need extra cash for your business.
Goals
Kabbage is designed specifically for small businesses. Founded in 2009 by 3 financial entrepreneurs, the alternative lender seeks to provide a faster, easier way for companies to obtain necessary funds. An automated application system utilizes the Kabbage technology framework to "quickly [connect] small businesses with capital." It offers a platform for businesses to integrate into their own systems to reach customers worldwide. Forbes magazine recognized Kabbage as one of the most promising companies in America in 2014 and 2015, and the platform was featured in the 2015 Inc. 500 list of the fastest-growing private companies in the nation. Featuring a simple, straightforward application process and providing access to as much as $250,000 in funds through lines of credit, Kabbage offers an option for businesses looking for a way to avoid the long and complex procedure required when applying for a traditional loan.
Business Line of Credit
A line of credit from Kabbage supports you through slow seasons, provides funding for small purchases, and helps cover essentials such as payroll when cash flow is interrupted for any reason. The Kabbage Card allows businesses to draw directly from their existing Kabbage line of credit.
Kabbage Extras
In addition to the features listed above, businesses qualifying for a Kabbage loan also get access to perks, including service discounts and free financial help. You may choose to sign up for UPS My Choice, a free 60-day trial of Constant Contact, or free trials of Ecommerce software. Free consultations for taxes and credit and free Vonage business phone services are also available.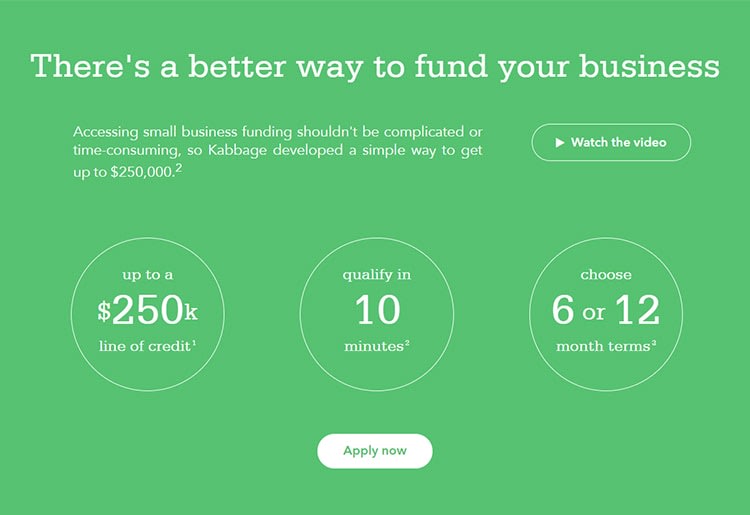 The Kabbage Card
The card allows businesses to borrow exactly the funds they need, right when they need it.
Each purchase made is a 6- month loan with the customer's existing rates and terms, for the amount charged
No minimum transaction amount and the card is free
A $25,000 daily limit, a $50,000 monthly limit, and $600,000 to use annually, so business owners can shop freely for their business needs anywhere Visa is accepted
It's secure, with an EVM chip and real-time fraud monitoring system
The Kabbage Card is intended for strictly business use, so gambling and massage parlors are blocked, as well as ATM withdrawals
Like other Kabbage loans, using the card will not impact your credit
Minimum Qualifications
Applying for a loan from a bank or credit union can mean spending a great deal of time gathering financial information, updating your business plan, and crunching numbers to prove you're trustworthy enough for them to lend you money. Kabbage has only a few simple requirements for business owners looking to apply for a loan:
You must have been in business for at least 1 year.
Annual revenue must be at least $50,000, or your company must show at least $4,200 of monthly revenue for the last 3 months.
You have to be at least 18 years old.
All applicants must be U.S. citizens.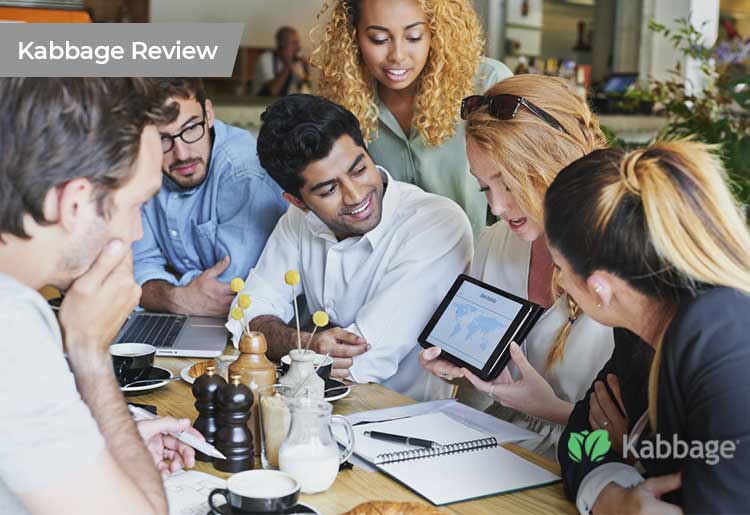 During the application process, Kabbage asks for basic information you don't have to dig around in your files to find:
Your name
Your business name
Home and business address
Business tax ID
Social Security number
Save Time, Link up
You'll also be asked to create login credentials and connect your bank account. Kabbage provides the opportunity to connect additional business accounts, such as QuickBooks, eBay, Amazon, PayPal, and Stripe. Linking multiple services increases the amount of revenue shown and gives Kabbage a better picture of your current financial status.
Unlike most traditional lenders, Kabbage considers multiple factors to determine whether or not to extend a line of credit to your business. In addition to your credit score, they look at:
How long you've been in business
Your average monthly revenue
Revenue consistency
Cash flow
Transaction volume
Seller rating, if applicable
Checking account information is required to verify your business, and a hard credit check is performed to obtain your credit score.
Application
The entire application process should take 10 minutes or less.
After receiving your application, an automated system reviews the information and calculates the amount of money and term length to which you're entitled.
If approved, funds can quickly be deposited to the account of your choice. PayPal deposits may be almost instantaneous. Bank deposits can take up to 3 days depending on the bank you use.
If your current financial situation doesn't allow your business to qualify for a Kabbage loan, the company keeps your information on file and reviews it from time to time. Instead of having to reapply in the future, you'll receive notice from Kabbage when funding does become available.
The same process is used to offer an increase in your credit line as your business grows. To qualify for a Kabbage loan and maintain an active profile, all information submitted must be accurate to the best of your knowledge. Kabbage requires users to maintain the accuracy of such information and reserves the right to close accounts not meeting these criteria.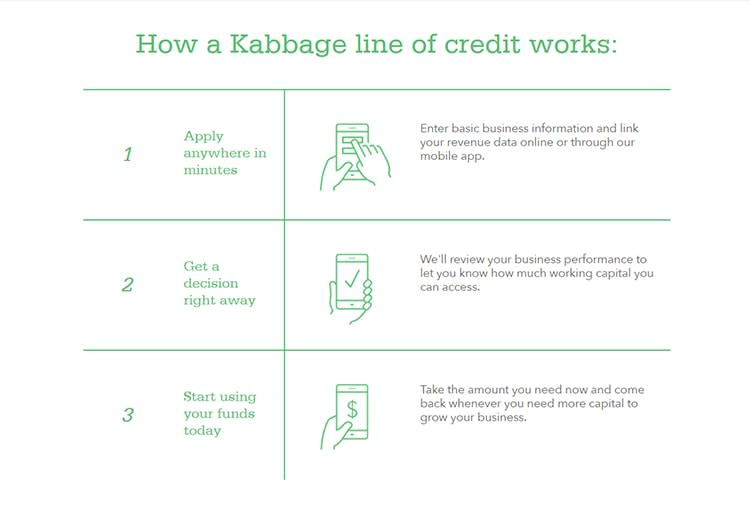 Repayment Terms
Terms from Kabbage business loans are simple and easy to understand, so you don't have to worry about complicated fee structures or changes in interest rates. The 6-month and 12-month terms require you to pay a percentage on your current withdrawal amount for the first 2 or 6 months, respectively. Kabbage interest rates then drop to 1 percent for the remaining months.
Each month, you pay off one-sixth or one-twelfth of the loan plus the monthly fee. If you take out multiple loans, payments are consolidated into a single fee to prevent confusion or missed deadlines.
Payments are automatically withdrawn from your connected bank account, but you also have the option to make manual payments whenever you wish. Kabbage doesn't charge fees for early repayment, so you can choose to pay more than the minimum at any time. Paying off the loan before the terms are up can actually mean owing less overall because you spend fewer months paying associated fees.
Although you can withdraw money from your credit line up to once per day, you're never obligated to use any of the funding Kabbage approves for your business. If you have no outstanding balance, no monthly payment is required.
Kabbage Keeps You Safe & Secure
Kabbage is certified for customer privacy. Login information is never shared, and the company doesn't sell customer data to third parties. Celtic Bank, the institution through which loans are provided, has a separate privacy policy listed on the Kabbage website for customers to review.
Help & Support Availability
Kabbage provides an extensive section of educational articles, guides, infographics, blog posts, videos, and webinars covering the most important aspects of running a business. Visit the resource section and choose from categories such as growth, funding, management, and innovation to access relevant resources. You can also contact Kabbage via phone or email with additional questions and concerns. Email may be sent through the website or directly to support, and messages are typically answered within 24 hours. This fast response time prevents delays from interrupting important business operations.
Educational Tools
FAQs provide answers to common questions about the loan process and service features. If you have any questions about how funding works, what the payment and fee schedules are like, or how the application process works, you'll find the answers here. A loan calculator is available under the "Business Loans" drop-down menu to help you figure out the total cost of different loan amounts.
Kabbage Review In Short
Multiple withdrawal methods and an automatic payment system make Kabbage preferable for on-the-go business owners. You get access to cash wherever and whenever you need it, meaning your business can keep going even if you're not there to immediately solve a cash flow problem. Requirements are straightforward, and by offering multiple loan amounts, Kabbage is able to service a variety of businesses nationwide. The terms and fee structure are easy to understand, and no hidden fees are charged. All loans are structured in the form of credit lines so that you can withdraw money on an as-needed basis and don't have to worry about making payments unless you have an outstanding balance.
Address
Kabbage
925B Peachtree Street NE
Suite 1688
Atlanta, GA 30309